by admin on Aug.01, 2008, under General, Work In Progress
Continuing my first attempt at the classical Flemish multilayer technique I added started painting with colour for the final layers.
NUDE SITTING 9″ x 12″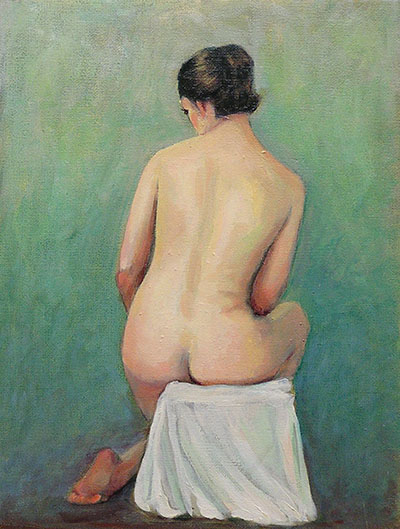 The first two layers were done in acrylics for speed of drying and include the following layers:
Gesso Priming (Acrylic Gesso)
Sketch (Antelope Brown ink and pen)
Imprimatura (Neutral ground Ochre, Ivory black, burnt umber)
Umber underpainting (Burnt Umber)
Dead Layer (Greyscale painting for dead skin tones
Colour Layer (Final colour layer in Oils)
The idea is that the light will pass through the various layers of paint bringing out a lifelike glow remniscent of old master paintings who used this technique extensively right up to the 19th century.
No comments for this entry yet...