by admin on Jul.14, 2008, under Materials Overview
Oil of spike (Lavendar Oil) is a mild solvent used as an alternative to turpentine for thinning oil paint in days gone by. I've been trying to avoid toxic solvents with my oil paints. Lavender oil is used in aromatherapy and is supposed to be calming and good for beating insomnia.
It's hard to find and quite expensive, I tried all the local art stores including some well known ones online and ended up purchasing from Jerry's Artarama. Here's what I bought.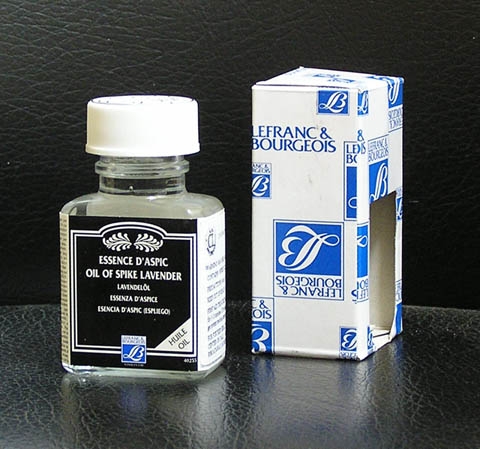 Lefranc & Bourgeois Oil of Spike Lavender 75ml Bottle.     $13.49
On first opening it does have a fairly strong odour up close. Not as unpleasant as the usual solvents. Otherwise it behaves pretty much as you would expect. The odour is not so bad, and much more subtle when used in small quantities.
I mostly use the Walnut oil medium formulated for M. Grahams paints. But for underlayers I prefer thinner faster drying which is where the Lavender oil comes in handy.
Being expensive, I think the regular walnut oil in smaller quantities is best for temporary cleaning of brushes.
No comments for this entry yet...