Archive for June, 2009
by admin on Jun.23, 2009, under General, Work In Progress
Here's first mini I sculpted last week that I like and am using in one of my games. SkilGallen, a dextrous two blade ranger and crack shot with his bow. Light armour relying on agility and reflexes when stealth is no longer an option.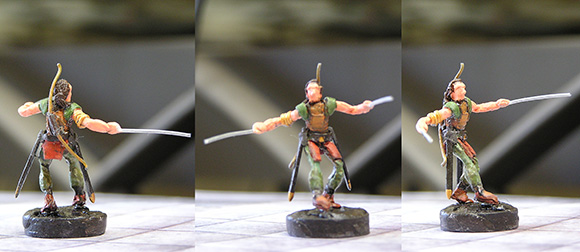 I used 20 guage steel wire for the arnmature (skeleton)
ProCreate epoxy putty for sculpting.
Magnetic Button for the base
Artists quality Acrylic paints (I don't have paints designed for miniatures yet)
Leave a Comment
more...
by admin on Jun.12, 2009, under Work In Progress
Back on the Dungeons & Dragons theme. For a while we played with a GM who was starting his own miniature business and was practicing by making hundreds of miniatures that he brought to his games.
Miniatures are small figurines 28mm high for regular humans. They are used to represent the players and other characters in the story that unfolds during the game.
I thought I'd have a go since it looked like fun and despite the thousands you can buy, I can never find anything that looks like the character in my head.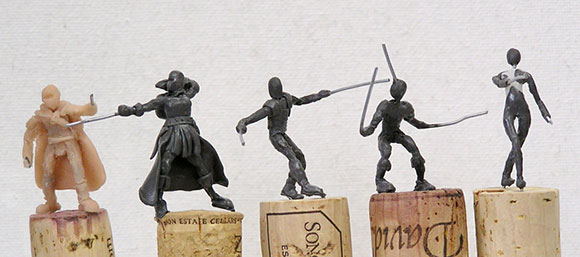 Above are my first attempts  in various stages, aprox actual size on a 21″ monitor. The first one I used Super Sculpey clay which has to be baked in the oven. It proved quite tricky to work with. I do like the feel and colour but it seemed better suited for larger projects.
Some research told me that I wasn't using the right material and should be using a 2 part epoxy putty that when mixed gives you 1-2 hours work time before it cures to a solid state. The second miniature on the left is my first almost complete miniature which I created in one 90 minute session.
The remaining three are in various stages as I decided to build them up in layers, starting with the wire armature, adding bone like skelleton, fleshing out, and then clothing. This gives you a solid base to build each layer on, instead of pushing the putty out of shape the whole time. I'm starting to get the hang of it, though I really need to figure out the best tools for smoothing. Seems to be a common problem and I expect I'll learn that and doing 3-4mm  faces will come with more practice.
Leave a Comment
more...